The MVP Group of Companies showed solidarity with the national government and other members of the private sector, with the ceremonial start of the vaccination rollout for the A4 sector.

The Companies include Metro Pacific Investments Corporation (MPIC), PLDT Inc. (PLDT), and Smart Communications, Inc. (Smart). Spearheaded by the vaccination cluster of the National Task Force Against COVID-19 in partnership with Taskforce T3 (Test, Trace and Treat), the commitment event symbolized the collective goal to achieve population protection for NCR+ before the year ends.

Metro Pacific Hospital Holdings Inc. (MPHHI) Chief Operating Officer Dr. Jeffrey Staples represented the MVP Group of Companies at the event, which was keynoted by His Excellency President Rodrigo Duterte and attended by select Cabinet Members, mayors of the National Capital Region, and Governors of the eight other priority provinces collectively referred to as NCR Plus 8.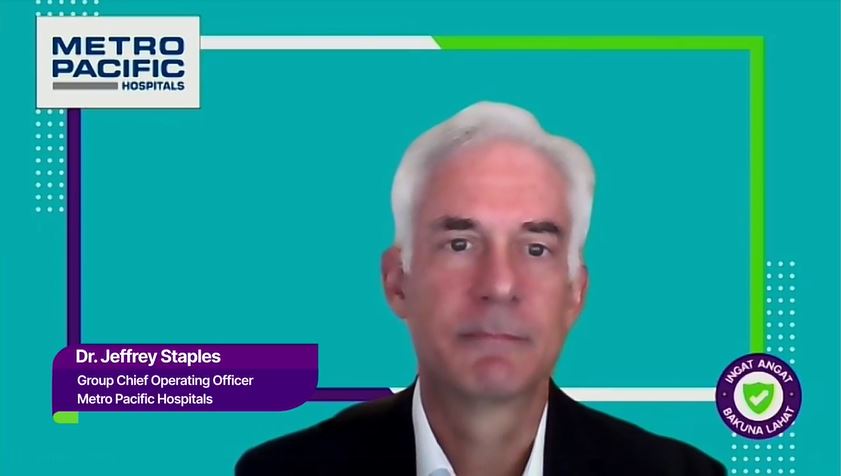 As partners of the government in the fight against COVID-19, Dr. Staples and other leaders from the private sector pledged to continue to support the national vaccination program. This includes educating and encouraging MVP Group employees regarding the importance of getting vaccinated and committing to help reopen the economy and safely jumpstart its recovery.

As the country's largest private hospital group, MPHHI previously declared its support to Taskforce T3 through the Ingat Angat Bakuna Lahat program. Under the said private sector initiative, MPHHI will offer the expertise and available capacity of two of its largest NCR sites to help accelerate the vaccination roll out and stem the rising number of COVID-19 cases in priority areas.

First is Makati Medical Center, one of the Philippines' premiere hospitals located at the heart of the country's primary central business district that is known for world-class services and superior patient care. Second is the Asian Hospital and Medical Center, a premiere hospital in the South of Manila accredited by the Joint Commission International as one of the most advanced healthcare institutions in the country.

MPHHI's commitment to the rollout of safe and efficient vaccines piloted with the mobilization of all 18 Metro Pacific Hospitals nationwide to vaccinate as many of its over 26,000 healthcare workers in the shortest possible time in Q1 2021. "Among the first to get inoculated in Metro Pacific Hospitals were those from participating facilities under the Ingat Angat Bakuna Lahat partnership, which reached worker vaccination rates of up to 98% in March 2021," Dr. Staples said.

Meanwhile, Smart was recently announced as a co-presenter of a consumer program under Ingat Angat Bakuna Lahat, dubbed as Smart Bakuna Benefits. Aimed at giving people additional incentives to get vaccinated, one simply needs to present a vaccination card after getting inoculated to avail of exclusive deals from over 150 participating retail establishments nationwide.

"Through Smart Bakuna Benefits, getting jabbed becomes an even more rewarding experience for Filipinos. We hope that these exclusive perks will motivate our fellowmen to finally make the smart move of participating in the government's vaccination program so we can all protect ourselves, our families, and communities. This is a shared responsibility that goes a long way in building a better world," said Alfredo S. Panlilio, PLDT and Smart President and CEO.

To help promote the initiative, Smart will produce a video on Smart Bakuna Benefits that will be aired on the wireless provider's digital assets. These include NBA.Smart, a portal that enables subscribers to watch live NBA TV, as well as Smart's selected out-of-home LED properties that show the brand's biggest campaigns. Additionally, SMS blast will serve as a channel for public service announcements.

A collaboration with Restaurant Owners of the Philippines (Resto PH), Smart Bakuna Benefits offers are available during the operational hours of participating stores from June 1 to August 31, 2021. Vaccinated customers only need to show their vaccination cards and a valid ID to avail of the promos. For the full list of restaurants in the Smart Bakuna Benefits promo, visit www.ingat-angat.com/benefits