PLDT wireless unit Smart Communications has once again provided emergency communications support for the National Simultaneous Earthquake Drill, with the activity's second quarter installment in San Mateo, Rizal. 
The drill was spearheaded by the Office of Civil Defense Region IV-A and National Disaster Risk Reduction and Management Council in partnership with the local government. It simulated the Big One or a magnitude 7.2 earthquake situation.
During the drill, Smart deployed its multi-equipment on wheels (MEOW) portable cell site and satellite communications suite, and provided libreng tawag (free calls) assistance.
PLDT and Smart public affairs head Ramon R. Isberto said Smart's participation in the drill was part of the company's commitment to use technology toward nation-building. "Our various communication tools, including the cellular and data services themselves, are part of our #SafePH advocacy, which aims to help build more resilient communities and reduce disaster risk," said Isberto.
In line with its #SafePH campaign, Smart has also invested over P500 million on the Emergency Cell Broadcast System. Smart acquired ECBS to fully comply with Republic Act No. 10639 or the Free Mobile Disaster Alerts Act, which mandates telecommunications service providers to send free mobile alerts in the event of natural and man-made disasters and calamities.
Accompanied by a loud siren sound, ECBS alerts are designed to send urgent messages, such as evacuation notices and earthquake and tsunami warnings, to activated mobile devices within the affected area.
Cell broadcast is effective in disseminating quick hazard alerts because it operates on a radio channel separate from those used by voice calls and text messages or SMS (short messaging service), which may get congested in times of calamities.
The drill was led by NDRRMC Executive Director Ricardo Jalad, Vice Chair Eduardo Año, and spokesperson Director Edgar Posadas; and Gov. Rebecca "Nini" Ynares, Mayor Tina Diaz, and various representatives of the disaster preparedness and response council and the municipal government.
Posadas noted the importance of communication and information as part of disaster preparedness. "Information is very important—it's our lifeline. The area-specific alerts are very much appreciated. It's a work in progress, but these are baby steps in refining our procedures toward resilience," he said.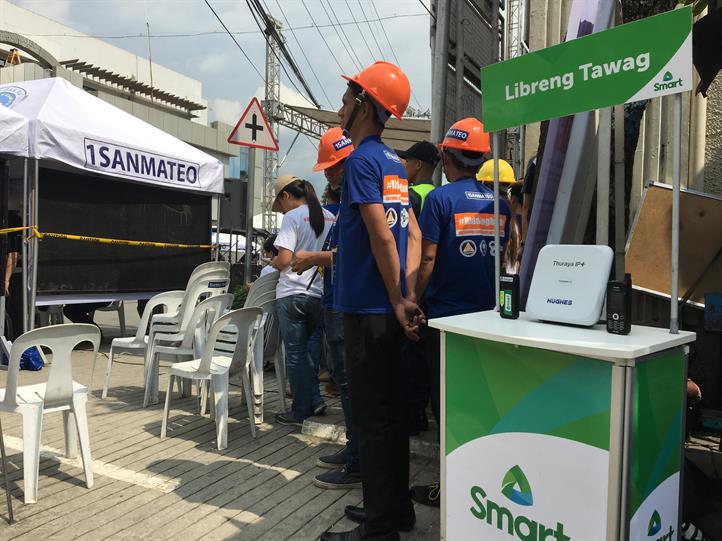 At the start of the program, the participants were urged to assume the "duck, cover, and hold" position and converged in an open area near the municipal hall. Residents, workers, students, and government personnel joined the activities, while responders were on standby for mock rescue operations. The drills started at 1 p.m. and were held at various locations across San Mateo.
The drills also simulated other emergency situations such as injuries, typhoons, flooding, evacuation, fire, and prison break.
In times of calamities, Smart has provided emergency communications support such as free SMS, calls, charging, and Wi-Fi, for residents and responders. These services were deployed, for instance, in past earthquake drills, and during the onslaught of Supertyphoon "Yolanda" in 2013, the series of earthquakes in Batangas last year, and Mayon Volcano eruption early this year, among other typhoon and earthquake situations in recent times.
The other programs under Smart's #SafePH include TNT Tropang Ready, which tours schools nationwide to educate the youth on preparedness and empower them to mobilize their communities in times of calamities; and the Batingaw disaster management app, which allows users to report incidents and features tools such as a flashlight, a siren, a radio, and a directory of emergency contact numbers.|