PLDT, its wireless unit Smart Communications, Inc. (Smart), and the MVP Sports Foundation (MVPSF) ramp up their support for Filipino athletes, unveiling recently a world-class training facility for gymnasts.
Situated within the Intramuros complex in Manila, the 2,300-square meter MVPSF Gymnastics Center complex will be equipped to train national athletes in artistic, aerobic, and trampoline gymnastics. A tall tent outside of the building will also be erected for the rhythmic gymnastics team.
It will also house the Gymnastics Association of the Philippines (GAP) office, conference rooms, lounge, lockers, coaches' rooms, a clinic, a café, and even a meditation area for the well-being of the athletes while training.
"Our investments in the country's sports development bear fruit when we witness our athletes give their best while representing the Philippines in the global arena. The victories they achieve and the pride they give our country are priceless," said sports patron and PLDT Chairman Manuel V. Pangilinan. Pangilinan is also Chairman and Trustee of the MVPSF.
"We at PLDT and Smart have always believed in the importance of sports in shaping individuals and communities for the better. This facility is just one our many efforts to ensure that Filipino athletes get the best support that we can possibly provide as they bring glory to our country," said Alfredo S. Panlilio, PLDT Inc. and Smart Communications President and CEO, MVPSF President and Trustee, and Philippine Olympic Committee (POC) First Vice-President.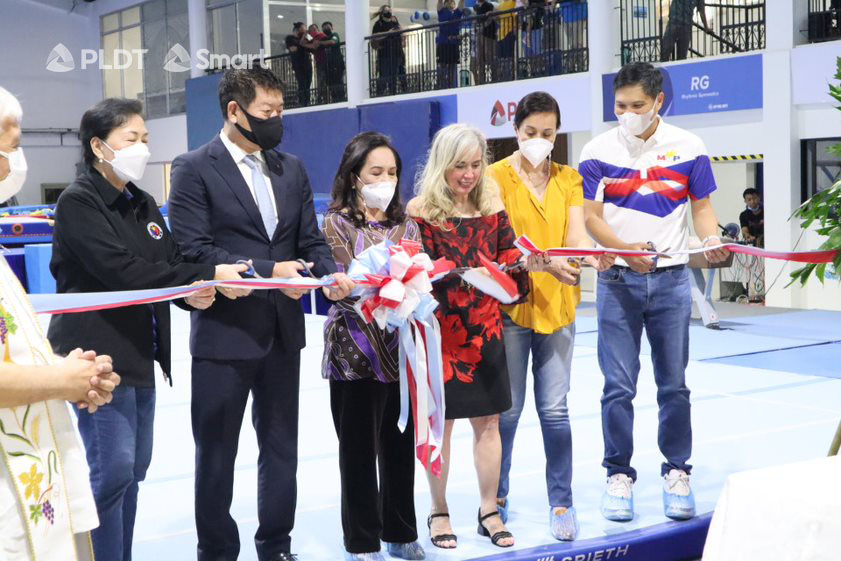 For PLDT and Smart Head of Sports and MVPSF Executive Director Jude Turcuato, this is also a way for the telco to contribute to nation-building. "Our mission is to be the driving force in the development of world-class Filipino sports champions. We want to foster a culture of winning using the grassroots programs that we've established in various sporting events."
International Gymnastics Federation (FIG) President Morinari Watanabe, GAP President Cynthia Carrion, Philippine Sports Commission Commissioner Celia Kiram, former President and House Speaker Gloria Macapagal-Arroyo, Japanese Embassy Deputy Chief in Mission Yasushi Yamamoto, POC Deputy Secretary-General Carl Sambrano, International Olympic Committee Executive Board Member Mikee Conjuanco-Jaworski, and other guests witnessed the inauguration of the facility.
"The training of our athletes has been a challenge during this pandemic, so we moved heaven and earth to find them a new home. We are grateful to the MVPSF and the PSC for making this new facility a reality for our gymnasts," Carrion said.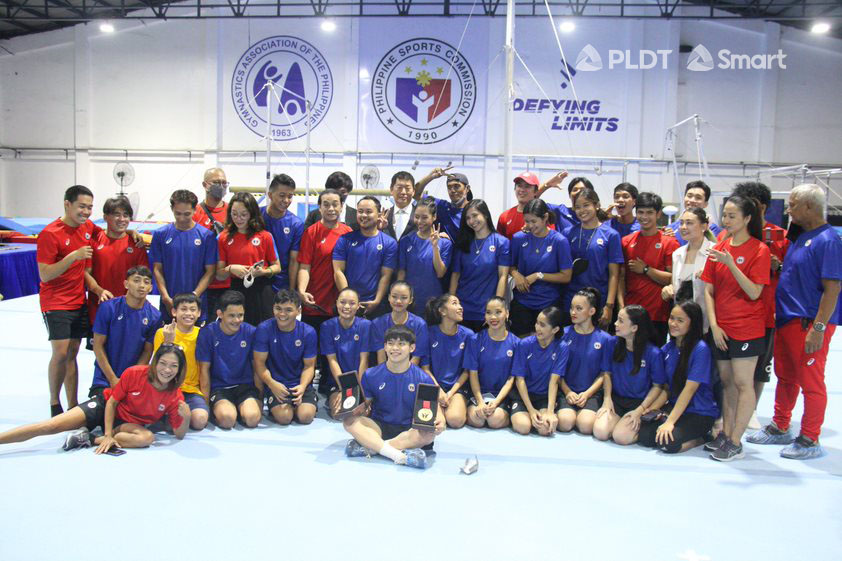 World gymnastics champion Caloy Yulo was also present to mark the special event. "Naging challenge para sa aming team na wala silang mapag-praktisan noong pandemic. Nagpapasalamat po ako nang sobra dahil tinulungan nila kami," Yulo said.
The MVPSF has been supporting Yulo's journey since 2017. Yulo is now back in Japan to train for upcoming games in Hanoi, Doha, Hangzhou, and England. All eyes are also on the promising Filipino athlete for the upcoming 2024 Paris Olympics.